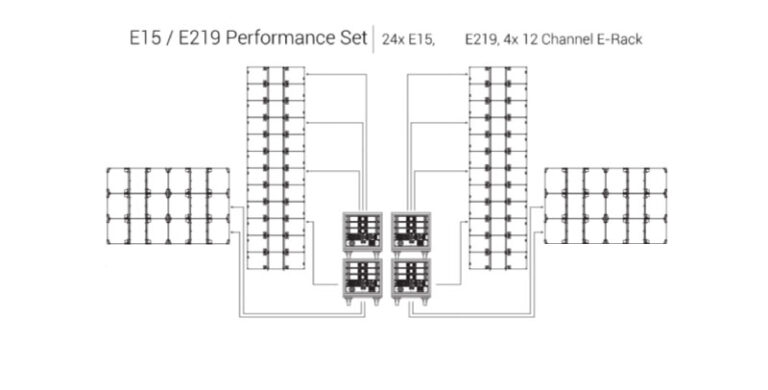 E15
The Adamson E15 is a 3 way, true line source enclosure, incorporating proprietary transducer and waveguide technology which reduces weight and minimizes the footprint. The heart of the E15 is the E-Capsule, which is precisely engineered and constructed of lightweight aluminum. The patent pending skeletal structure provides an accurate and rigid frame for mounting the modular aircraft grade steel Autolock© rigging system, while simultaneously housing a series of efficient mid-high components coaxially mounted on Adamson's pioneering Co-Linear Drive Modules.
Two vector corrected low-excursion 7" Neodymium midrange transducers paired with two next generation 4" HF compression drivers energize the drive modules and provide seamless mid-high energy with minimized distortion at very high SPL levels. Critically optimized waveguides based on a prolate-spheroidal geometry ensure precise pattern control and minimum THD, producing a nominal (-6 dB) dispersion pattern of 90° x 6° (H x V). The E-Capsule is flanked with two separate, vented birch ply enclosures, each containing Adamson's proprietary Neodymium 15" woofer, capitalizing on the advantages of Adamson's Advanced Cone Architecture and optimized heat dissipation management of the 4" voice coil.
E119
The E119 Subwoofer was developed to bolster the low-end of the E-Series line of products. The enclosure is loaded with a light weight, long excursion, 19" SD19 Kevlar Neodymium driver utilizing Adamson's Advanced Cone Architecture and Symmetrical Drive Technology. The driver employs a dual 5" voice coil for exceptional power handling, with a dual-spider suspension system for extra stability even under extreme excursion. It is mounted in an ultra-efficient front-loaded enclosure, designed to reproduce clean, musical low frequency information. Users will appreciate the lower fundamental notes of this design.
The cabinet construction uses marine grade birch plywood as well as aircraft grade steel and aluminum, and is equipped with four Speakon™ NL4 connectors, two parallel In/Out rear plugs and two dedicated cardioid input connecters in the front. The integrated rigging system allows for either 0° or 3° splay between adjacent cabinets. The E119 can travel on installed casters, or on a 3-high covered dolly.